Some of the best contour products in the market:
It is true that if you know how to contour, you could do with less of other makeup products. Some contour kits out there are amazing in terms of texture and finish. I have learnt that we could do some amazing facial restructuring just by knowing how to play with light and dark, in contour speak, how to shade/recede and highlight/bring forward.
I have compiled a a list of products that work well together (highlighter+corresponding shader), so you can pick and choose according to budget ,skills and choice of finish. I have them all in my makeup collection so can attest to their use, effect and longevity on the skin.
H- highligher, S-shader/contour
Chanel
- Blanc de Chanel (H) with Chanel Soleil Tan de Chanel ( S)
Blanc de Chanel is a Universal highlighter which also contains Licorice which works to lighten up dark pigmentation. works very well around the eyes too. Soleil Tan de Chanel is a creme bronzer which works brilliantly to add shading without any shimmer. This combination works best for skins from fair to tanned (NC45 ish)
Hourglass
- Illume cream to powder in Bronze Light
image courtesy of zuneta.com
This is a stellar palette where the creme bronzer and corresponding illuminator are in one palette. Creme products work wonderfully to blend colours effectively into nothing leaving a hint of shade and highlight for subtle effect. The palette is expensive but will last a while. retails around £40 ish in the UK
MAC
- everybody knows MAC so this will comes as no surprise. The Cream colour bases in Luna ( silver highlight), Pearl ( pale gold sheen), Hush ( peach sheen) and Shell ( soft pink-beige shimmer) make wonderful highlighters with a barely there finish. Shading - in creme formulation are best paired with darker foundation creme sticks or concealers for maximum blendability. I quite like MAC Prism , Harmony or Taupe blushers for contouring on powdered skin. All three of these colours contain a hint of grey in the base to mimic the effect of a shadow. Perfect for contouring.
Have a play around and see what suits you best, depending on your tone, you can choose the cream colour base and concealers/blushers for maximum impact.
Laura Geller
- this is a QVC guilty pleasure that I am happy to admit too. I found the Laura Geller Baked Sculpting Bronzer kit a dream to work with. I managed to contour my nose in a sinch using the kit and the dual ended brush that came with the compact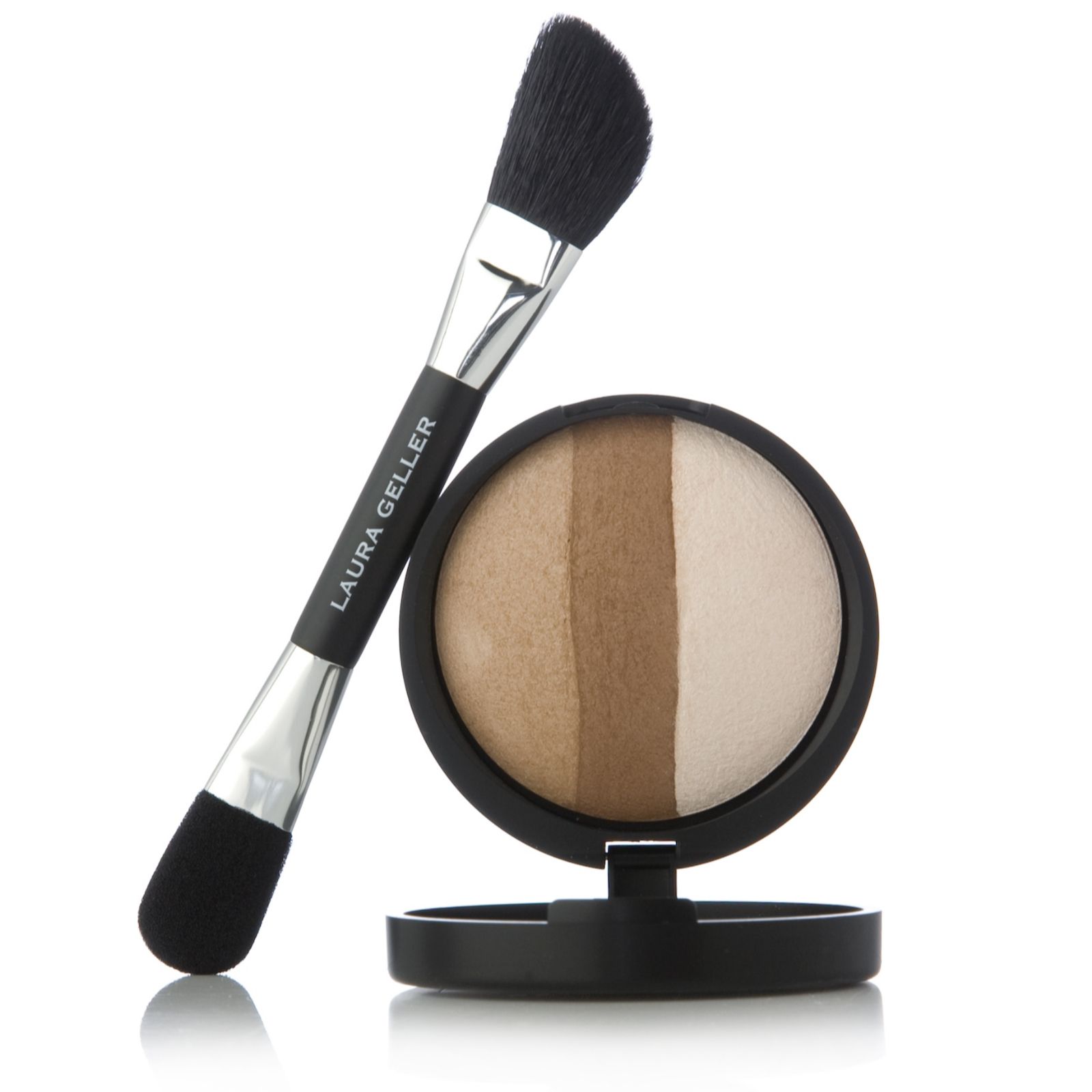 Tan/regular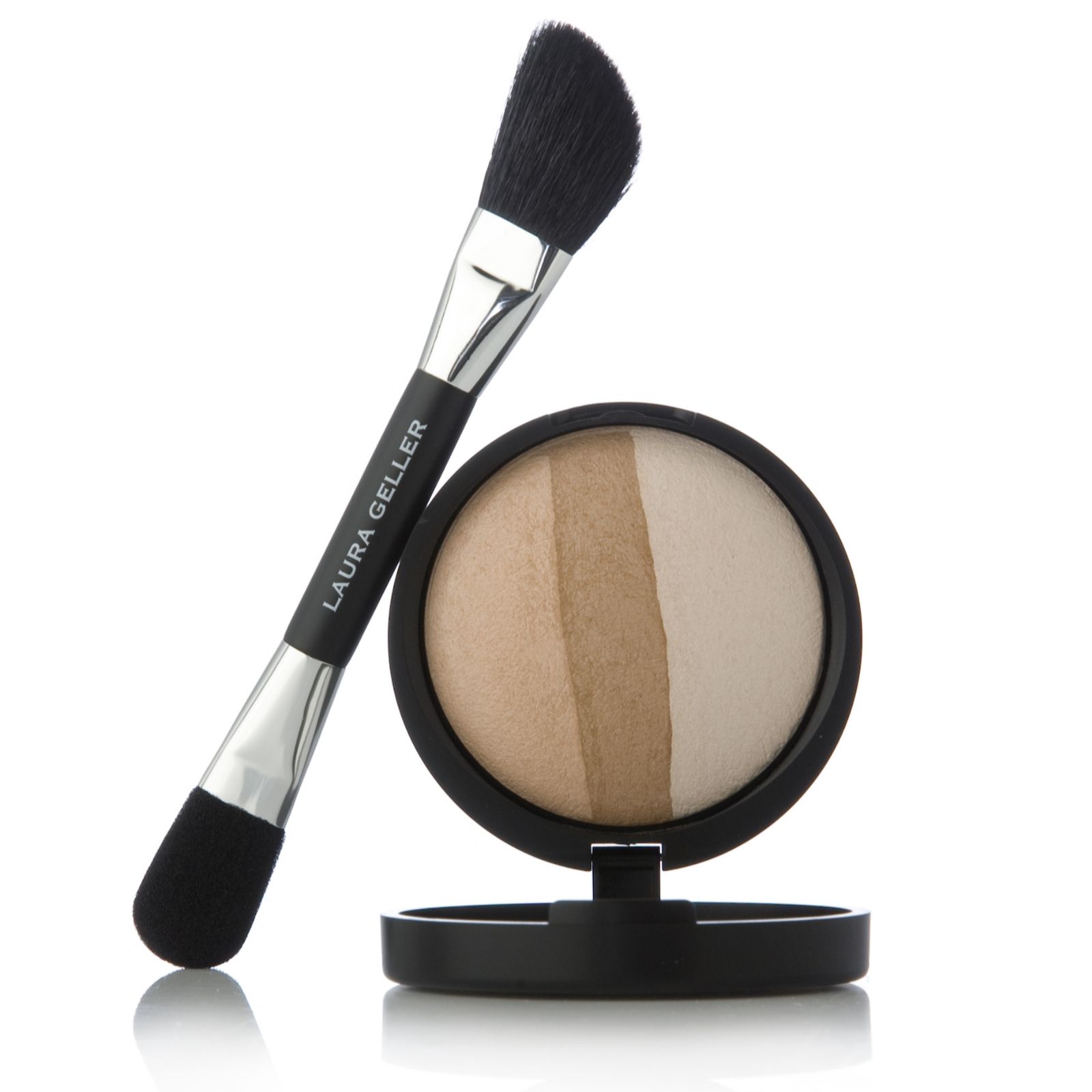 kit in fair
image courtesy of QVCuk
I got it in both Fair and Tan/Regular as I quite like a light contour for day and strong finish for night. Because it is baked, it works amazingly well on top of creme foundation or powder. These work wet and dry equally well. The brush feels a bit cheapish but the contour brush end is just the perfect size for shading the nose, temples and socket. The sponge paddle end actually works well to deposit the lovely highlighter on areas of prominence strategically.
Sleek makeup
:
Sleek released 3 contour kits in light, medium and dark. The formulation is in powder form with a very pigmented colour payoff. I am not too keen on the shader colours as I find them too red. However, with a light hand, you can make the kit work to your advantage by using them strategically instead of doing an all over contour.
medium
dark
light
Pick and choose your contour target for the day be it nose, chin, cheek, eyes, forehead etc. Just not all in one go as I find I can go from glowy to muddy very quickly with this kit. the kits pulls triple duty as blushers and shadows too. a word of advise, these can apply streaky so make sure the surface is powdered to ensure blendable application.
Christian Dior
: Diorskin Nude Natural Glow Sculpting Powder Makeup SPF 10
Oh my word where do I begin with this wonderful palette? Created for Monica Belucci for that 'Nude Glow' look, there are 4 palettes in the collection. I have 033 Passion and 040 Golden Caramel to suit my NC40-42, Chanel VItalumiere Aqua in Beige 40 skin tone.
Sculpting palette
I like sometimes to have a pinky finish to my skin or a golden glow finish. Passion gives me the pinky sculpted glow and Golden Caramel gives me the Golden Honey glow. The brush in the kit does wonderfully to apply the base colour to blend the contour and highlight seamlessly into the skin.
Guerlain:
I love Guerlain in so many ways that It is almost worrying. the brand is not cheap therefore, the are an investment for a finished look in honour of the Guerlain woman.
Below are the combinations that would work well for if you are trying to create a contrast for your skin-I specifically adore the iconic Guerlain Terracotta range because the formulation imparts a radiant bronzed tone possessed by the healthy and the wonderful. These are specifically bronzers, and the highlighters are not just highlighters but bronzed highlighters.
For skins with pink/bluish tones or Blonde finish-
Highlighter- Sun Blondes 01 (winter) or 04 (summer)
Bronze/Shader- Terracotta Bronze in 00, 02 or 4 seasons Bronze in Blonde
If I wanted to create a pinkish burn to my skin, I use the above product combination for a day time pinkish burn with a gentle pinkish bronze highlight.
For skins with beige/green tones or Brunette finish-
Highlighter- Sun Brunette in 02 ( winter) or 05 ( summer),
Bronze shader- 01, 03 or 4 seasons Bronze in Brunette
depending on the shade of finish you are after, you could use the recommended combinations.
I keep Terracotta in Ebony O8 for that sun burn effect you get from a Desert holiday. it is so dark in the compact, makes a great contour if I am after a desert queen tan.
I find with Guerlain, you could use pretty much any of the terracotta compacts provided you know the look you are after. a tip- all numbers that are even- have a pinky/red undertone, all odd numbers have a brown/yellow gold undertone.
I must mention that bronzing and contouring are 2 different things. To bronze, it is more of an all over colour change, where as to contour, it is the strategic placement of colour to recede that area. Most bronzers are used interchangeably as contour products, therefore the finish and placement of colour is important. For contouring, avoid products with shimmers in them. for highlighting, choose sheen over glitter to gently kiss the prominent panes and bring them forward.
MaqPro Le Maquillage Professionel:
I like these nifty palettes as they have a myriad of uses. I own 2 palettes, the Morag Ross Palette and the Pro lip/cheek/eye palette. These are creme/wax bases and therefore have a wonderful adherence to the skin.
from botton left- shade 117 for shader, the pale yellow for highlighter
pro lip/cheek/eye palette- top from left- shader and highlighter
I found these palettes from PreciousAboutMakeup.com. These palettes hold a lot of product. They have a wax/creme base which warms into the skin leaving an imperceptable finish. the only caveat is that you need to allow the wax to warm into the skin to check that you've attained the desired effect.
The shader has a grey/brown/greenish effect which again mimic natural shadows on the face. The highlighter works well as a base for powder highlighters to go on. the blend incredibly well into the skin and last a good while.
for some reason- these products work well with natural hair brushes rather than Taklon.
A quick mention on tools-

everyone has a favourite contouring tool- I prefer an angled blush brush ( natural hair for powder or taklon for creme) to shade/recede areas. I like the Makeup Forever Dual Ended Contour Brush, Real Techniques Contour Brush and Nars Ita Kabuki Brush in No 20/21.

For highlighting, I like a fan brush for powder highlighter and fingers/small taklon foundation brush for strategic light placement. Latest brush discovery for powder based products, perfect for both shading and highlighter placement, Liz Earle Angled Blush Brush.

I hope you found this post useful. Do tell what combinations you've discovered that work for you..

Ciao xx